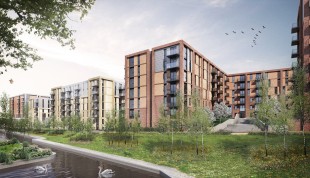 Cara secures Masonry Package on BCEGIís - Middlewood Locks

Cara Brickwork are have been awarded Masonry package on Phase 1 of Middlewood Locks for BCEGI.

The masonry package is worth over £4m and will start early May for and last for over a year.

Designed by architect, WCEC Group the 24-acre Middlewood Locks scheme which is a massive residential and commercial neighbourhood is located at the western gateway to Manchesterís central business district, is being developed by a three-way joint venture involving Scarborough Group International, Chinese property developer Hualing Group and Metro Holding, a Singapore-listed property development and investment group.

Phase 1 will see construction of 571 homes and shops, restaurants and extensive new public realm.

The full £700m Middlewood Locks scheme will deliver a new mixed-use neighbourhood, which, in total, will provide around 2,000 new homes and more than 750,000 sq ft of commercial development space, including offices, hotel, shops, restaurants, a convenience store and gym.

Joey Allen - Managing Director quoted:- "This has been a major contract award for the company with such a high profile development in Salford, Manchester which lasts over a year on Phase 1 alone, we have been informed it is the biggest development outside London and we are proud to be involved"
"This also gives us a great opportunity to give local people long term jobs and we are currently in talks with Salford Collage about employing 3 apprentices on this contract"

25th April 2017
Cara Helps Salford Food Bank

At this time of year the stocks at the food banks are getting depleted, so at Cara Brickwork we have decided to make a collection points at a ...
Cara are proud sponsors of ULCAN Rovers FC

Cara Brickwork are proud sponsors of UCLAN Rovers FC Cara try to support teams that have a connection with the company and this time its ...
New contract awarded

Cara Brickwork have been awarded the Masonry package for a new client - Redrow. This is the first time Cara Brickwork have worked with the ...
MacMillan Morning Massive Success

Staff of the Cara Group joined in the spirit of the MacMillan Cancer Support 'World's Biggest Coffee Morning' and are extremely pleased that it was a massive ...
BCEGI Jobs Fair

Cara Brickwork were part of a number of companies that attended the BCEGI Jobs Fair at Middlewood Locks in Salford. The Jobs Fair was a ...
Man of the Match

Cara Brickwork were proud sponsors of the 'Man of the Match' at the St Helens Vs Wigan game on 1st September. Unfortunately Saints were beaten ...
Duo wins Safety award

Congratulations to Neil Taylor (Little legs) and Paul Fenlon (Ace) for winning the Monthly Safety Award at Food Hub. The where awarded a crate of ...
Outstanding Safety Observed at Jodrell Bank

Congratulations to Steve Grimes from Cara Construction, who won the safety award for June, due to his outstanding commitment and contribution to the effective ...