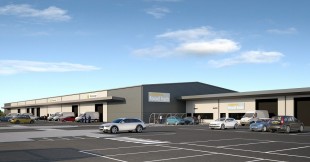 Cara secures new Fruit & Veg Market.

Cara Brickwork have been awarded the Masonry Package for the new £7m fruit and veg market to be constructed by Willmott Dixon which will start early mid May.

The 80,000 sq ft market will include parking, a café and public toilets, replacing the market's current building off Edge Lane in Old Swan and it is expected that construction of the new market could open in September 2017.

Joey Allen – Managing Director quoted – "We have worked with Willmott Dixon's site team on several contracts in the past and look forward to working alongside them again on the New Fruit & Veg Market. It's good to secure part of our 'planned work load' for the year as this helps us keep the continuity for our regular local workforce and helps us with or planned growth of Apprentices for 2017 in the Liverpool area".

24th April 2017
Outstanding Safety Observed at Jodrell Bank

Congratulations to Steve Grimes from Cara Construction, who won the safety award for June, due to his outstanding commitment and contribution to the effective ...
Cara secures Masonry Package worth £4m

Cara Brickwork have secured the masonry package on the prestigious Clippers Quay for Sir Robert McApline worth a mere £4m. The 614 ...
Another Contract Secured

Cara Brickwork are pleased to have secured the Masonry Package worth over £200,000 on Polygon Scheme for Gallifordtry The polygon is a ...
Cara proud to named as Main Sponsors for "I'm a Precky Fan... Get me out of here!!"

The Steve Prescott Foundation is delighted to announce great SPF Charity supporters Cara Brickwork will be the main sponsors of the ...
Cara secures Masonry Package on BCEGI's - Middlewood Locks

Cara Brickwork are have been awarded Masonry package on Phase 1 of Middlewood Locks for BCEGI. The masonry package is worth over ...
Cara Instigates Safety Stand Down

During a Cara Group SHE Committee meeting in February 2017 it was noted that although Cara Group's RIDDOR has been zero for 2 years, there had been a number of ...
Spring Brings Three New Starts!

Cara Construction are pleased to announce a busy March for new starts, with three separate contracts commencing in 3 weeks! Wates - MFRS Prescot - ...
Cara Awarded Contractor of the Month

Cara Construction have been awarded the 'Contractor Champion of Site HSE' for the month of February on the site of the on-shore sub-station for Walney ...
Zero Riddor For Second Year Running!

Following from Zero Riddor in 2015, Cara are pleased to announce we continued the excellent run and achieved another zero RIDDOR record in 2016. This is an ...
ISO Audit Results in New Standards Achieved

Following a 4 day ISO audit, involving the new ISO Standards for 9001 (Quality) and 14001 (Environmental), and a surveillance audit for OHSAS 18001 (H&S), Cara ...
Stockport Exchange Successfully Complete

Cara Construction has handed over the final stage of public realm works at Stockport Exchange, marking the completion of another phase of development of the ...