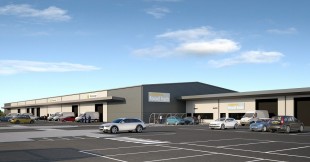 Cara secures new Fruit & Veg Market.

Cara Brickwork have been awarded the Masonry Package for the new £7m fruit and veg market to be constructed by Willmott Dixon which will start early mid May.

The 80,000 sq ft market will include parking, a café and public toilets, replacing the market's current building off Edge Lane in Old Swan and it is expected that construction of the new market could open in September 2017.

Joey Allen – Managing Director quoted – "We have worked with Willmott Dixon's site team on several contracts in the past and look forward to working alongside them again on the New Fruit & Veg Market. It's good to secure part of our 'planned work load' for the year as this helps us keep the continuity for our regular local workforce and helps us with or planned growth of Apprentices for 2017 in the Liverpool area".

24th April 2017
BCEGI Jobs Fair

Cara Brickwork were part of a number of companies that attended the BCEGI Jobs Fair at Middlewood Locks in Salford. The Jobs Fair was a ...
Man of the Match

Cara Brickwork were proud sponsors of the 'Man of the Match' at the St Helens Vs Wigan game on 1st September. Unfortunately Saints were beaten ...
Duo wins Safety award

Congratulations to Neil Taylor (Little legs) and Paul Fenlon (Ace) for winning the Monthly Safety Award at Food Hub. The where awarded a crate of ...
Outstanding Safety Observed at Jodrell Bank

Congratulations to Steve Grimes from Cara Construction, who won the safety award for June, due to his outstanding commitment and contribution to the effective ...
Cara secures Masonry Package worth £4m

Cara Brickwork have secured the masonry package on the prestigious Clippers Quay for Sir Robert McApline worth a mere £4m. The 614 ...
Another Contract Secured

Cara Brickwork are pleased to have secured the Masonry Package worth over £200,000 on Polygon Scheme for Gallifordtry The polygon is a ...
Cara proud to named as Main Sponsors for "I'm a Precky Fan... Get me out of here!!"

The Steve Prescott Foundation is delighted to announce great SPF Charity supporters Cara Brickwork will be the main sponsors of the ...
Cara secures Masonry Package on BCEGI's - Middlewood Locks

Cara Brickwork are have been awarded Masonry package on Phase 1 of Middlewood Locks for BCEGI. The masonry package is worth over ...