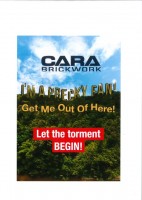 Cara proud to named as Main Sponsors for "I'm a Precky Fan... Get me out of here!!"

The Steve Prescott Foundation is delighted to announce great SPF Charity supporters Cara Brickwork will be the main sponsors of the forthcoming

Cara Brickwork I'm a Precky Fan!!..............Get me out of Here!! in association with EDGE Travel Worldwide

The 48 hour challenge will take place in Burwardsley, West Cheshire starting at 1800 on Friday 28th April and finishing at 1800 on Sunday 30th April 2017.

There will be a wide range of activities (15 in total) that will be based on a "I'm A Celebrity theme". Examples of challenges are the Tarzan swing, Eat to survive, Buried Alive, Hot or Cold, Solitary Confinement and Slippery when wet!!

Martin Blondel General Manager of the SPF and one of the participants said "We would like to thank the team of Cara Brickwork for their generous sponsorship of this tremendous event. It is going to be an interesting 48 hours out in the jungle of Cheshire. Without the support of sponsors like Cara Brickwork events like this will not be able to take place and continue the astonishing name of Steve Prescott."

Joey Allen from Cara Brickwork commented "It is our pleasure to once again support the SPF and its beneficiaries. We would like to wish all participants the very best of luck and urge all friends and family to support them with donations however big or small. I cannot wait to see the Bushtucker Trials that will be shown on Facebook Live through the Steve Prescott Foundation Facebook page."

A total of 12 lucky participants will brave the outdoors undertaking a series of challenges to test their individual and team mental resilience and their ability to adapt in a remote and austere environment.

Activities will include individual, pair and team challenges and competitions throughout the 48 hour period.

All contestants must approach this as a digital detox so no watches, no smoking allowed and no comfort items are allowed unless essential for health reasons. They will live off Ration Packs and Nettle Tea. All participants will sleep out in the woods with only a tarpaulin sheet for cover.

Bushtucker Trials will take place from

1800 – 2100 Friday
0900 – 2100 Saturday
0900 - 1800 Sunday

Spectators are allowed to visit and watch proceedings from 1100 – 1600 Saturday and will be able to cheer on the participants from a 30 yard distance.

Location: Harthill Road, Burwardsley, Chester CH3 9NU

27th April 2017
Outstanding Safety Observed at Jodrell Bank

Congratulations to Steve Grimes from Cara Construction, who won the safety award for June, due to his outstanding commitment and contribution to the effective ...
Cara secures Masonry Package worth £4m

Cara Brickwork have secured the masonry package on the prestigious Clippers Quay for Sir Robert McApline worth a mere £4m. The 614 ...
Another Contract Secured

Cara Brickwork are pleased to have secured the Masonry Package worth over £200,000 on Polygon Scheme for Gallifordtry The polygon is a ...
Cara secures Masonry Package on BCEGI's - Middlewood Locks

Cara Brickwork are have been awarded Masonry package on Phase 1 of Middlewood Locks for BCEGI. The masonry package is worth over ...
Cara secures new Fruit & Veg Market.

Cara Brickwork have been awarded the Masonry Package for the new £7m fruit and veg market to be constructed by Willmott Dixon which will start ...
Cara Instigates Safety Stand Down

During a Cara Group SHE Committee meeting in February 2017 it was noted that although Cara Group's RIDDOR has been zero for 2 years, there had been a number of ...
Spring Brings Three New Starts!

Cara Construction are pleased to announce a busy March for new starts, with three separate contracts commencing in 3 weeks! Wates - MFRS Prescot - ...
Cara Awarded Contractor of the Month

Cara Construction have been awarded the 'Contractor Champion of Site HSE' for the month of February on the site of the on-shore sub-station for Walney ...
Zero Riddor For Second Year Running!

Following from Zero Riddor in 2015, Cara are pleased to announce we continued the excellent run and achieved another zero RIDDOR record in 2016. This is an ...
ISO Audit Results in New Standards Achieved

Following a 4 day ISO audit, involving the new ISO Standards for 9001 (Quality) and 14001 (Environmental), and a surveillance audit for OHSAS 18001 (H&S), Cara ...
Stockport Exchange Successfully Complete

Cara Construction has handed over the final stage of public realm works at Stockport Exchange, marking the completion of another phase of development of the ...